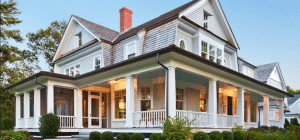 We asked our investors a very simple question: Where do you put your money for the highest return on investment? Here are the top three responses:
1. Update kitchens and bathrooms for the greatest return on investment.
With more open floor plans concepts where the family room and kitchen have become a blended area, this area has become the focal point of most homes and the first area a buyer sees when they enter a home. As such, kitchens will give you one of the biggest returns on your investment. Start by replacing old appliances with new, and make sure all appliances match if possible. You can reface or replace outdated cabinets, as well as revive old flooring with newer tile or vinyl options. And even very simple updates, like a backsplash or new appliances, can be a valuable place to put your money. While years ago granite countertops cost $100/sqft, you can find it now for $35-$50/sqft which means upgrading to a beautiful new countertop is both affordable and visually impactful.
With bathrooms, a complete renovation usually isn't required. You can tackle inexpensive elements like vanities, toilets and fixtures, and still get the look and feel of an update without breaking the bank. For long-term quality including properties you plan to hold as a rental, do yourself a favor and change out the hardware while you're at it. A $50 diverter can save you thousands in leak repairs down the road.
2. Prioritize curb appeal with landscaping.
Landscaping is probably the best, easiest, and most affordable way to increase your home value. It makes sense — healthy trees, blooming flowers or plants, cleanly mulched areas and neatly trimmed lawns can make a house. Not only is the landscaping the first aspect a buyer sees when they arrive at a house, but it's also the first area they visualize letting their children play and welcoming guests.
What not to do: Avoid removing established trees when possible, and installing synthetic turf or gravelscaping. These are not only expensive solutions but also degrade environmental resilience, increase energy costs, and make the home appear less established and welcoming.
3. Modify the floor plan or add square footage.
If you've purchased a home that's closed off and choppy at a time when most people prefer a more open design, then removing a wall here or there will increase the value within a year. For example, many older homes have a wall between the kitchen and the living room. Remove the wall (leaving about two feet on each end), sand the hardwood floors, and add an island in the kitchen to create an open look people prefer.
Or, simply add square footage through a second bathroom, family room or four-season room. Bigger homes usually lead to higher values, and that's something buyers tend to notice. Adding another decent-sized bedroom alone can broaden your buyer list if you sell, since many people will always consider more bedrooms than their family requires, but rarely consider looking at properties with less. Finally, you can also focus on creating additional living space, such as finishing a basement, building a deck or converting an attic. And when it comes to the basement, remember that bedrooms require ingress/egress to be considered a legal bedroom. A simple fix, allocating a few thousand dollars to a window well will accomplish this and bring in more light.